My son recently celebrated his fifth birthday and begged me for a Frozen party. Since I have all boys and typically don't get to dabble in anything princess, I was kind of stoked he insisted on a Frozen party. We decided to go heavy on Olaf and not AS much on Elsa or Anna (since he is a boy). So, here's the Frozen Party!
.....................................Drum Roll......................................
I ordered the invitations on
Etsy
. This is what they looked like, except with our information (obviously) and orange writing in place of the purple.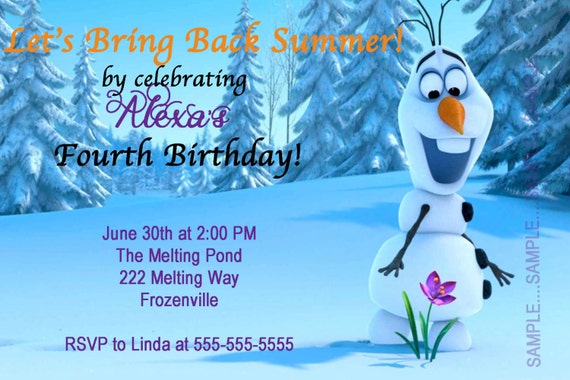 We had a Pool Party and I decorated the cabana in colors of light blue, turquoise, and silver. Here's how it turned out.
So, I need to give credit where credit is due. I ordered a lot of the Frozen printables off of Etsy. Here's the rundown for any of you out there who are thinking of throwing your own Frozen party.
*Tissue paper poms -- for a great tutorial on how to make poms, click
HERE.
*Treat bag labels -- I ordered them off Etsy
here.
*Cupcake toppers/round Frozen labels -- Ordered from Etsy
here.
*Melted snowman water bottle labels -- Ordered off Etsy
here.
*The Frozen food labels -- Ordered off Etsy
here.
*The 8 x 10 Olaf and Elsa pictures -- Ordered from Etsy
here.
*Cake and cupcakes -- made by a dear, talented friend. The cake was a combo of chocolate and vanilla -- so yummy -- and the cupcakes were scrumptious with cream inside!
*Snowflakes -- my creation :)
*Fans -- my creation :)
Whew! So glad it's over! And I think my little man had a GREAT time! :) Thanks for stopping by!