I can't believe it's already NOVEMBER! That means Christmas is right around the corner—yikes!
And since it's the first Wednesday of the month, that means it's time for another group posting of the IWSG! A big thank you to the creator of this wonderful group,
Alex Cavanaugh
. And for anyone who wants to join us, it's never too late. Go
HERE
to sign up or learn more about the group. And, as always, thank you to the co-hosts for the month!
So, there isn't much to report. The agent I did the R&R for decided to pass on that project, but good news—she invited me to send her anything I thought might be a good fit. I decided to send her a little blurb about one of my adult contemporary romances and she responded that she'd love to read it! I sent it off to her and now I'm waiting to hear back. In the meantime, I've decided to send out more queries for Middle of Knowhere, and when I've exhausted all my query options, I'll start submitting to any publishers who accept work from unagented authors. So, if you know of a publisher who accepts YA, let me know! :)
I'm happy to have a game plan, but I'm still feeling a little overwhelmed. Inspiration for another book hasn't struck yet (or, I guess I should say,
stuck
yet), and I keep hoping there will be something that triggers that desire to write again. Oh well, I don't want to focus only on the negatives. And now that I've given you the update on what's going on, let's have some fun!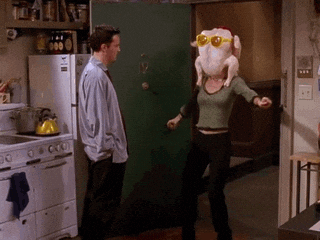 I figured this is appropriate since Thanksgiving is just around the corner...
This is how I feel about this awesome IWSG group: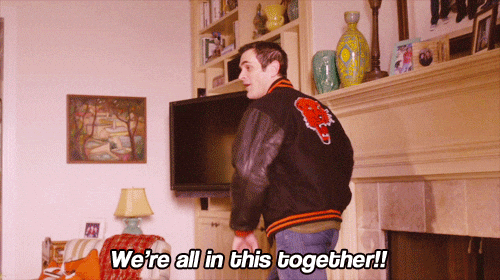 This is what I tell myself when I start to feel overwhelmed with the whole querying/publishing process:
*I will BE so relaxed*
And this is what I keep telling myself in spite of it all (and this is what you should tell yourself too):
Even though things aren't necessarily falling into place the way I want them too, I'm still not giving up. And neither should you.