Hi all of you IWSGers! I can't believe it's already April, and while most of you are kicking it with the A to Z, I'm neck deep in all the fun and exciting stuff that goes along with publishing your first book. For those of you who haven't been around in a while, I recently signed with Clean Teen Publishing to publish my debut novel CATALYST, a YA near-future thriller. And obviously, I'm THRILLED!!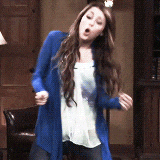 Since then, I've created an author website, which you can find
HERE
, I've started a newsletter sign-up which you can find
HERE
(don't you want to sign-up to receive the latest info on cover reveals, book releases, giveaways, and general awesomeness?? Of course you do!) :) And I've been working with the designer on my cover. *insert squeal* It all feels so surreal that after wanting this for so long, it's finally happening!
Sure, I could easily get caught up in the "but I didn't get an agent" or the "but I didn't sell to a major publishing house" but in the end, does that REALLY matter? I'm bringing my book baby to the world and that's enough for me. I love the publisher I went with (everyone has been amazing so far!) and I look forward to writing many more books for them.
Speaking of which, I have my first deadline! They'd like the sequel to Catalyst by the end of August! I've been working hard and thankfully, the words are coming, but I know it's gonna be a beast to revise.
On another note, how do you go about securing blurbs from authors? My publisher would like me to ask established authors to read an ARC and provide a little blurb to be used on the back cover or the first couple pages of the book. Obviously, I can ask CTP authors, but if I wanted to branch out, do you think most authors would be receptive? I had a friend tell me that big name authors like James Patterson actually have people pay him to do a blurb for them. Is that something I should try to do? Secure a big name YA author and pay them???
Also, has anyone ever hired a publicist? I'm trying to decide if the cost would be worth it.
Give me your thoughts! :)
This post is brought to you by the IWSG. A big thank you to Alex Cavanaugh, the brain child of this group, and all his co-hosts for this month. It's never too late to join this fun, supportive group. Click
HERE
if you're interested.
Happy Wednesday!!